Besides the fantastic possibility to be addressed in the future with count, duke, baron, prince or princess, you will have a lot of fun!
It is primarily a symbolic title, in which you or the person to whom you give the title can have a lot of fun. Just impress your fellow men a little by placing the appointment certificate in your living room or office. Surround yourself with noble insignia such as an extra-printed coffee mug or pillow. Enjoy it to guide your new nobility title as a name addition on your business cards and letterheads, and note how respectfully you are treated as an nobly titled in your favorite restaurant or hotel. Bet that all of a sudden there is still a table free and a free upgrade of the room is available?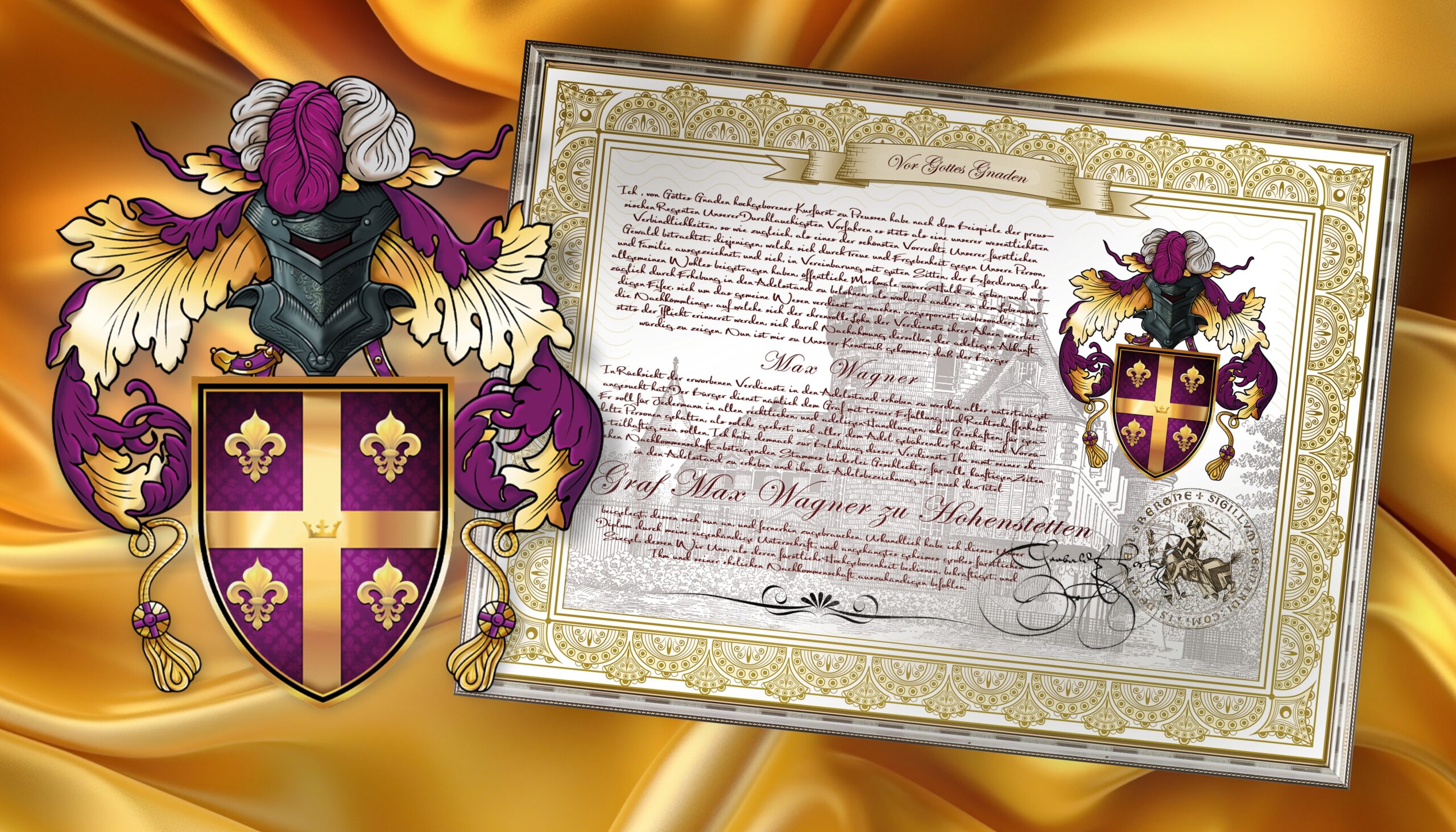 Your certificate of nobility
All nobility titles come of course with their own magnificent certificate of appointment. On this the elevation into the respective nobility is confirmed, it is stamped and signed. The documents are ready for print and framing in any size.
Your certificate of nobility is a document that certifies that you and your family belongs to the nobility. In some countries, such as the United Kingdom, certificates of nobility are issued by the monarch or the government, while in others, such as Germany, they were historically issued by the sovereign or by regional authorities.
Your certificates of nobility are inherited and passed down through generations of your noble family.
Free partner certificates
If you are elevated to the status of nobility, this naturally also has an effect on your family. We offer optional free partner certificates. Also the little ones do not come too briefly, to each nobility title we issue also the appropriate documents for the children for an very small extra fee. The fact that the children can often be called prince and princess when their parents are aristocratic makes this particularly beautiful.
Your children:
By the way: while the noble titles have both a male and a female special form (for example Count and Countess or Duke and Duchess), the children are always referred to as prince or princess. That's only historically not entirely correct with the title "Baron", but we still like to issue these children's certificates that way. What joy when you can make your children a prince or princess!
Enclosures
The titles include our information supplements. For all German nobility titles we provide beautifully designed information pdf booklets. In them each reference to our Internet site or other advertisement is missing, so that you can give it away. The supplements come per title, not per partner certificate. The brochure comes in english.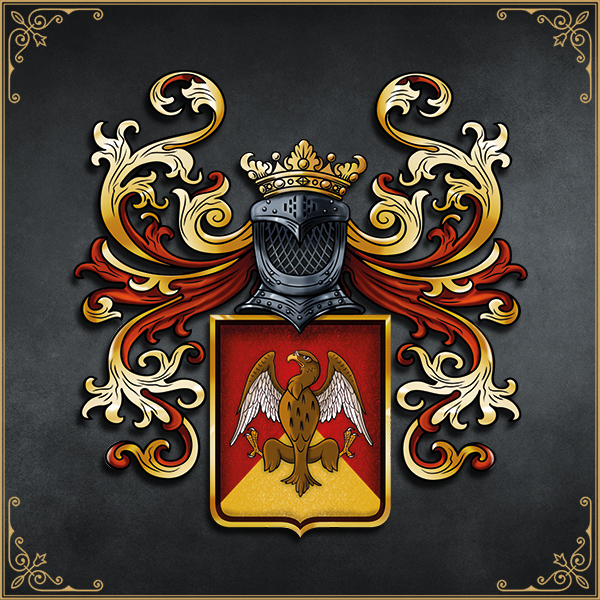 Your coat of arms
Your coat of arms will also be delivered to you digitally. It is of high graphic quality and can be easily printed on anything you want. Mugs, t-shirts, flags, business cards and so on.
Coats of arms originated in medieval Europe as a way for knights to identify themselves and their families on the battlefield. Over time, they became associated with social status and nobility, and were often used as a way for wealthy families to distinguish themselves from others.
Each element of your coat of arms has a specific meaning. For example, the shield represents protection, the helmet represents strength and loyalty, and the crest represents honor and achievement. The supporters are usually animals or mythological creatures that symbolize strength or courage, and the motto is a short phrase or motto that reflects the values or aspirations of your family. Of course you can add your own individual motto.