Besides the fantastic possibility to be addressed in the future with count, duke, baron, prince or princess, you will have a lot of fun!
It is primarily a symbolic title, in which you or the person to whom you give the title can have a lot of fun. Just impress your fellow men a little by placing the appointment certificate in your living room or office. Surround yourself with noble insignia such as an extra-printed coffee mug or pillow. Enjoy it to guide your new nobility title as a name addition on your business cards and letterheads, and note how respectfully you are treated as Lord of Kerry suddenly in the hotel.
Your certificate of nobility
All nobility titles come of course with their own magnificent certificate of appointment. On this the elevation into the respective nobility is confirmed, it is stamped and signed. The documents have the format Din A4 and are ready for framing. (Din A4: 210 x 297 centimeters or 8.3 x 11.7 inches )
Your certificates: You will receive an authentic one in german and an translation in english.
Free partner certificates
If you are elevated to the status of nobility, this naturally also has an effect on your family. We offer optional free partner certificates. Also the little ones do not come too briefly, to each nobility title we issue also the appropriate documents for the children for an very small extra fee. The fact that the children can often be called prince and princess when their parents are aristocratic makes this particularly beautiful.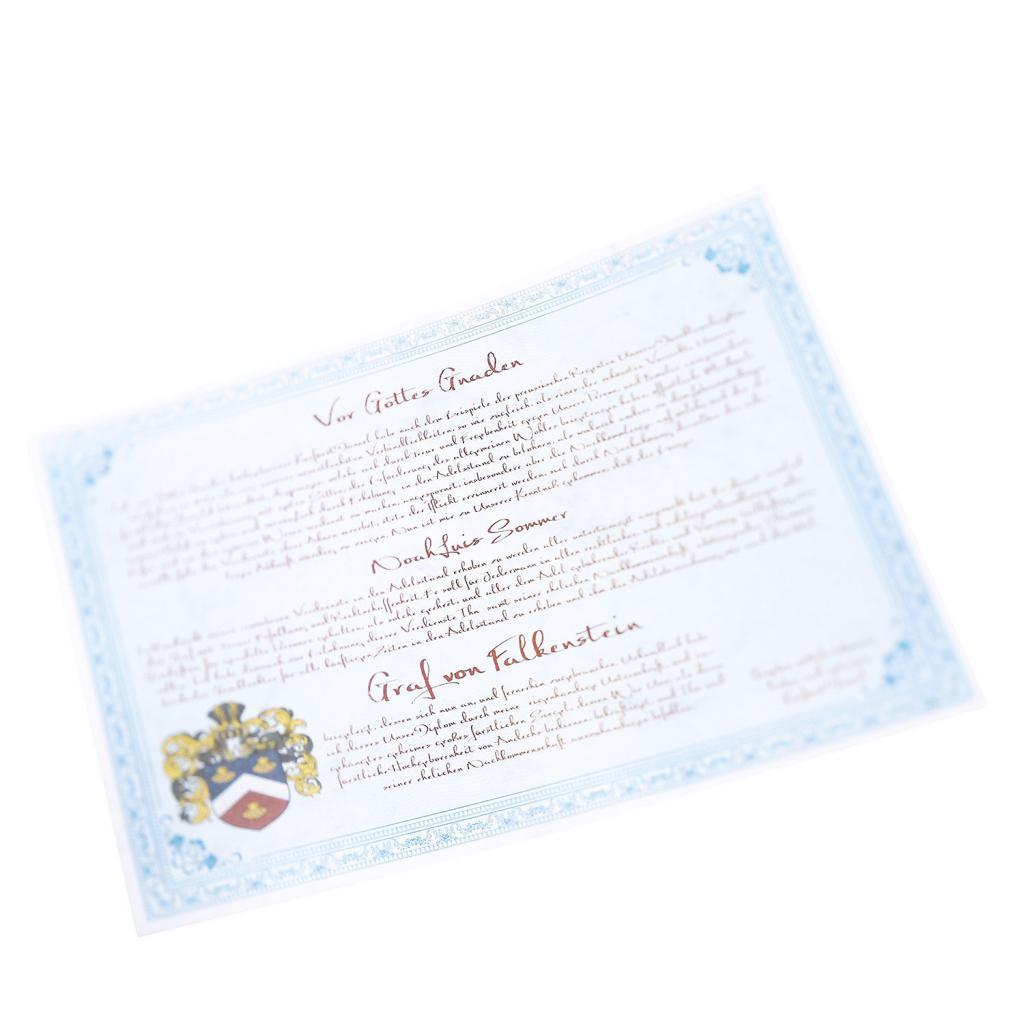 Enclosures
The titles include our information supplements. For all German nobility titles we provide beautifully designed information booklets. In them each reference to our Internet side or other advertisement is missing, so that you can give it away great. The supplements come per title, not per partner certificate. The brochure comes in english.
Presentation folder
Your certificates will be delivered in a presentation folder. This serves not so much to transport your noble title documents, but rather as a small gift packaging. If you want to give the title as a framed gift, you can put the enclosures and information in the presentation folder.
Your coat of arms
You will automatically receive a coat of arms for your title of nobility. You can download the coat of arms free of charge as a pdf file. All coats of arms are also available as a vector file. With it you can have everything printed without loss of quality from rice grain to truck tarpaulin. The set can be purchased as an accessory for download and is available in the formats eps, ai and cdr.